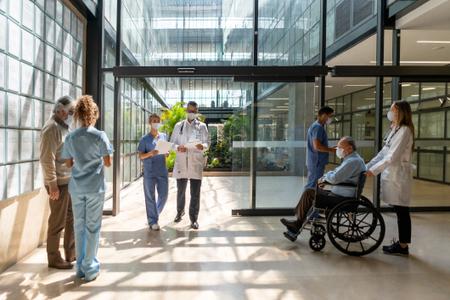 Patient health depends on a clean, pest-free environment. To maintain compliance with guidelines from federal agencies and local health codes it is crucial to have a fast and effective pest control plan in place. A sterile, pest-free enviornment is vital to patient satisfaction and health. Establishing an effective pest management program is an investment in the health of both patients and staff at the facility as well as an investment in maintaining a certain reputation of cleanliness and healthiness. With a comprehensive pest management plan from American Pest, you can rest assured that your facility is kept free of pests.
WHAT CAUSES PEST ISSUES IN HEALTHCARE FACILITIES
Healthcare facilities frequently face pest issues due to pests entering the facilities from the immediate surroundings of the facility as well as people entering the facility. While all facilities face the risk of pest infestations, larger facilities face a larger risk for a pest infestation. Larger facilities have larger kitchens, they serve more food, they have more bathrooms, and more patients, staff, and visitors all of which contribute to the potential size of a pest infestation. No matter the size of your healthcare facility here are some reasons you may end up facing a pest infestation:
Plumbing issues - a poorly maintained plumbing system can attract an abundance of pests since they are attracted to moisture
Food facilities - food that is not stored properly can lead to a feast for pests in your facility
Docking area - pests can come in with any food or supplies delivered to the premises
Landscaping around the hospital - shrub trimming and landscaping is an often-overlooked tip, however, proper landscaping can keep pests from lurking near your facility
COMMON PROBLEM PESTS
All pests can pose problems in a healthcare facility, but we have found that the most common pests which present the biggest health risks are:
HOW TO DEAL WITH PEST PROBLEMS IN YOUR FACILITY
The absolute last thing you want is to see an unwanted pest scurrying across a wing of your facility and that's why it is crucial to know how to tackle tricky pest situations. Here are some of our tips for dealing with pest problems in your healthcare facility:
Get a comprehensive, on-site inspection to address the unique needs of your facility
Develop a comprehensive pest control plan that focuses on preventing the entry and spread of pests
Educating your laundry and housekeeping staff in the prevention of bedbugs
Train employees on how to spot a pest problem before it becomes an infestation
Utilize a pest control treatment that is least hazardous to human health and most effective at controlling the target pest
Keep all food within the facility properly stored
Make sure all waste on the premises is properly disposed of
Make sure everything entering your facility (especially through the docks and the kitchen) is carefully inspected before entering
HOW AMERICAN PEST CAN HELP
Here at American Pest, we realize that a comprehensive pest control plan is a crucial component to keeping your Maryland, D.C., or Virginia facility clear of unwanted pests. Our pest professionals are trained to the highest standards and are kept up to date on the latest regulations concerning pest control in the healthcare industry. We know that only one pest sighting from a patient within your facility can destroy an otherwise clean reputation - and we are here to help keep you in compliance. Contact us today to learn more about how we can design a comprehensive pest management program that fits the unique needs of your healthcare facility!