Are Stinging Insects Keeping You From Enjoying Your Own Backyard?
When bees, wasps, or hornets take up residence on your property, they can make life miserable. No one wants to be bombarded by stinging insects every time they step out their front door, and no one should have to avoid spending time in their backyard due to the risk of getting stung. If stinging insects have taken over your yard, it's time to take it back with help from American Pest.
Why Are Stinging Insects So Hard To Prevent?
In an ideal world, we could offer a few simple prevention tips, and you could spend your summers free of stinging insects. Unfortunately, although prevention tips abound, there's no real way to keep stinging insects off your property. While covering outdoor garbage bins and keeping flowering plants to a minimum might help, there's still a good possibility that a nest will form somewhere nearby, despite your efforts. Then anytime you step outside in a brightly colored shirt or try to enjoy a backyard barbecue, you'll likely have to contend with these pests.
Stinging Insect Control From American Pest
When stinging insects get the best of you, contact American Pest. Our stinging insect service will safely eliminate both stinging insects and the source of the problem. Our technicians are highly trained, knowledgeable, and have the proper equipment to take care of your stinging insect problem. We can treat for:
Baldfaced hornets

Carpenter bees
Eastern cicada killers

European paper wasps

Yellow Jackets
How Our Stinging Insect Control Process Works
We perform our stinging insect treatments as follows: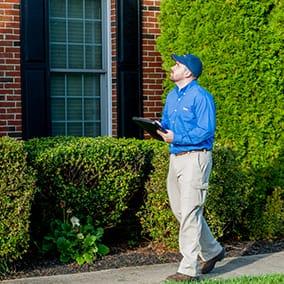 STEP #1 A THOROUGH INSPECTION
We first perform an inspection of the nests and voids where activity has been observed. This allows us to target the proper areas and determine the right treatment method to use.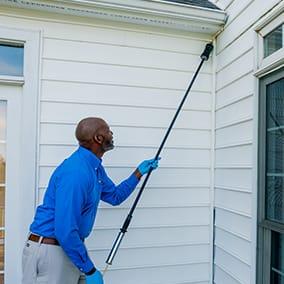 STEP #2 PROFESSIONAL TREATMENT
Based on the findings of our inspection, we will then treat the nest. Treatments vary based on the specific species we're addressing. Once it's safe to do so, and if it's possible, we will then remove the nest entirely.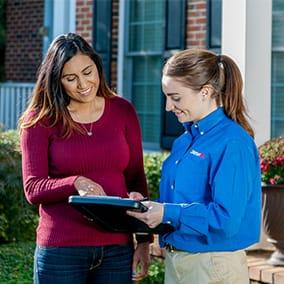 Step #3 FOLLOW-UP
After the service has been performed, we will follow up with you to see if any further treatment is necessary.
One-Time Service VS. Ongoing Stinging Insect Protection
Although our stinging insect control service can be performed as a one-time treatment, we highly recommend signing up for an ongoing service contract with us. Since stinging insects can't be prevented, it's possible to end up with multiple nests per year, even while practicing stinging insect prevention tips. While our one-time service option is not warrantied, our ongoing home pest control plans are, and stinging insects are covered. We will return between service visits to take care of any problems you're having.
Take Back Your Maryland Yard From Bees, Hornets & Wasps
Your yard should be a safe haven for you to enjoy, not an area to fear because of potential encounters with stinging insects. Take back your yard from bees, hornets, and wasps with the help of American Pest. Whether you choose a one-time service or an ongoing plan, we will keep your yard stinging insect-free. Contact American Pest to get started!
American Pest Stinging Insect Treatment Guarantee
We call it our Pest Free Pledge. If stinging insects return after a treatment is performed,
we will send one of our pest control professionals back out to take care of the problem at no additional cost!
See your service plan agreement for more details on our Pest Free Pledge and service warranties.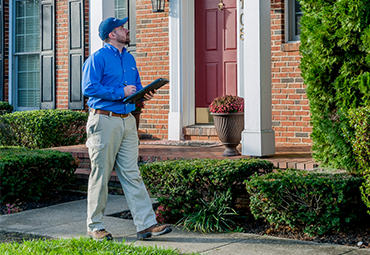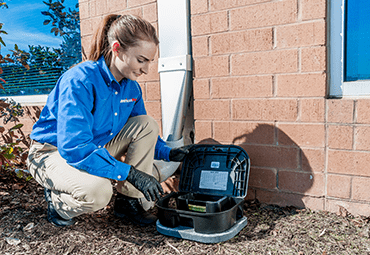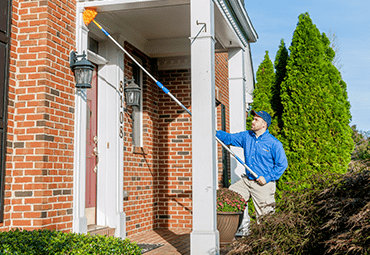 Our Preferred Care Plan is an affordable pest control solution for eliminating common insects that enter the home from the outside. You will receive an initial interior and exterior inspection and treatment for your target pest problems, along with those we uncover during our inspection. Exterior treatments continue once every quarter to control ants, mice and rats, spiders and 30+ home invading pests. Guaranteed service quality backed by our Pest Free Pledge.

Up to 4 Services Per Year
Year-Round Coverage
Exterior Perimeter Treatment
Interior Service Guarantee
Exterior Spider De-Webbing
Exterior Rodent Prevention
Pest Free Pledge Guarantee
Starting at $49*/month
*Some exclusions apply