Our Approach To Home Mosquito Control
Finding a top-rated mosquito spray service for your backyard is made easy by the team of mosquito control experts at American Pest. Our licensed professionals have been providing Washington D.C., Maryland, and Virginia residents with quality pest control services for nearly a century.
We understand that your home is your sanctuary and your yard is your oasis. And, you don't want pests in either. Getting rid of mosquitoes in your yard and eliminated from your outdoor fun zones is best achieved at the hands of a professional mosquito exterminator. We have options for a variety of property types from townhomes to single-family homes throughout the area. So if you're looking for mosquito control in Washington D.C., Maryland, or Virginia you've come to the right place.
Mosquito Treatments for Special Events
We recognize that peak mosquito season begins and ends during graduation and wedding season. That's why we offer a one-time mosquito spray service for your outdoor special event. Regardless of your number of party guests, we can accommodate small yards with intimate gatherings to lavish parties with expansive lawns. If you are hosting a ceremony, cookout, or planning a backyard party, let our certified mosquito control experts spray the area 24-48 hours beforehand to decrease the number of mosquitoes invading your summer gathering.
How Our Three-Step Mosquito Control Program Works:
First, we'll consult with you about your mosquito problem, provide you with the cost for treatment, and get you started with seasonal mosquito treatments.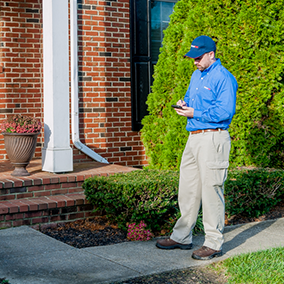 STEP #1 A THOROUGH INSPECTION
A professional mosquito control technician will perform a thorough inspection of your yard to identify where mosquitoes live and breed.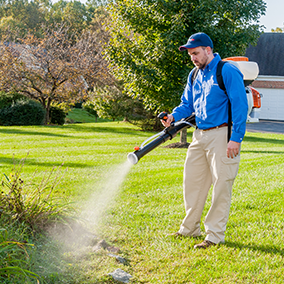 STEP #2 MOSQUITO SPRAY TREATMENT
Your technician will use a specialized misting system that applies a repellent mosquito treatment around your yard, paying special attention to bushes, shrubs, and areas that retain moisture. Your mosquito service will be performed monthly during peak periods of activity (typically April to September).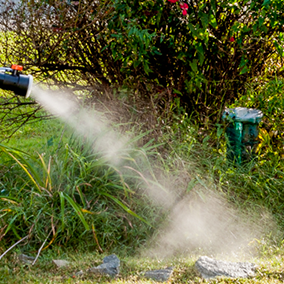 Step #3 TREATMENT OF MOSQUITO BREEDING AREAS
We'll stop mosquitoes before they even start by treating breeding areas with a biological mosquito larvacide. This will stop developing mosquitoes in their tracks!
Mosquito Related Articles
American Pest Mosquito Treatment Guarantee
We call it our Pest Free Pledge. If mosquitoes return after a treatment is performed,
we will send one of our pest control professionals back out to take care of the problem at no additional cost!
See your service plan agreement for more details on our Pest Free Pledge and service warranties.
Mosquito & Tick Control Program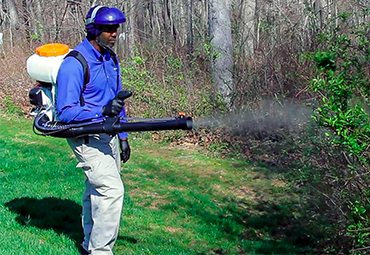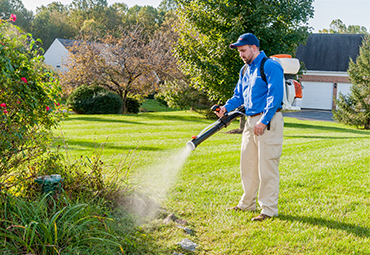 Mosquitoes and ticks thrive from spring to fall, which is why our Seasonal Mosquito Control plan is guaranteed to eliminate these yard pests during their peak. During the initial service, we will walk your property to identify where mosquitoes and ticks reside and breed and perform treatment to problem areas using a specialized misting system. Ongoing services continue once a month, typically March to October.

Monthly (7-8 Services Per Season)

Seasonal Coverage

Exterior Mosquito Treatment

Exterior Tick Spraying
Starting at $59*/month
*Some exclusions apply