Our Approach to Get Rid of Ants in Your D.C. Home
Getting rid of an ant infestation in a Washington D.C. row home, or any other residence, is precisely what our pest control experts are trained to do. Whether you have ants out on your lawn, in the kitchen, or in your bathroom, the key to an ant-free home is finding and eliminating the nest. In many cases, several ant nests will be located on a single property, often building their colonies inside walls, or under patios, causing problems with ants in your house year-round.
At American Pest we employ a holistic approach to home ant control. We believe that every house is as unique as the pest problems within it. When you hire one of our ant exterminators, you get a high-quality individual who has been trained in the biology of ants, who will come to your home armed with all the supplies necessary to get the job done right. He or she will talk with you about your ant problem, provide a thorough inspection, and begin treatments right away.
Our steps to getting rid of difficult problems with ants include:
Identifying the type of ant invading your home or business
Locating and eliminating nesting sites indoors and on the exterior
Treating the exterior along the foundation and other areas that are appealing to ant colonies
Spraying ant trails and hills outside routinely to prevent recurrent infestations
Whether your ant problems are large or small, our service pros are quick to identify and target treatments based on an ant's unique biology, preferred habitat, and response to treatment methods such as baiting or sprays. Not sure which treatment is right for you? No problem! Let our top rated pest control technicians share their experiences with you. Armed with your knowledge of your home, we can develop a solution that is safe, effective and intelligent.
Types Of Ants We Treat In D.C., Maryland And Virginia
There are many types of ants you may encounter indoors or outside your D.C. home and throughout Maryland and Virginia. Regardless of infestation size, these three species are among the top loathed by our clients: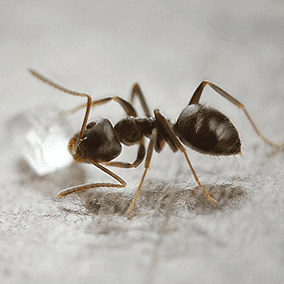 Odorous House Ants
Little black ants known to invade kitchens and bathrooms; often referred to as sugar ants. Prevalent all year long, but particularly active during spring and summer months. Often the most difficult to eliminate.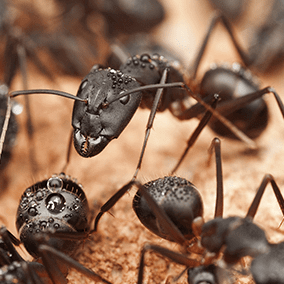 Carpenter Ants
Large black ants that nest in wood and cause structural damage. Mostly active at night, although sprinkled sightings indoors is sign of a problem. Damage as a result of carpenter ants is seldom covered by home owner's insurance.

Pavement Ants
Small brown ants that create characteristic 'ant hills' along walkways, patios and in yards. Rarely build nests indoors, but will disrupt landscaping, damage lawns, and build unsightly nests between pavers and brick walkways.

Best Ant Removal for Ants Inside the House
When it comes to finding the best pest control company to remove ants from inside your home and keep them out, we believe our ant control professionals are best in class! When ants make their way into your home they will typically look for one of three things: food, moisture and shelter. Therefore, it's not uncommon for ant nests to be located inside a wall, under hardwood floors and even in a second story bathroom. At times when the nest cannot be easily accessed, your pest control professional may recommend a complex solution consistent with using specialized ant baits on the inside of the home in conjunction with ant spray treatments on the outside. Exterminators using dual or multifaceted approaches experience high success in killing all the ants within the nest and not just the ants that you see roaming around your house.
American Pest Ant Treatment Guarantee
We call it our Pest Free Pledge. If ants return after your treatment is performed,
we will send one of our qualified pest control professionals back out to take care of the problem at no additional cost!
See your service agreement for more details on our Pest Free Pledge and service warranties.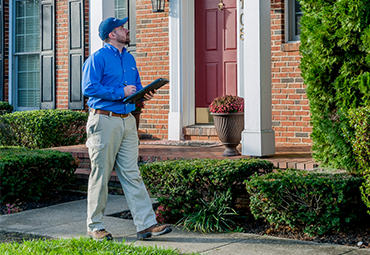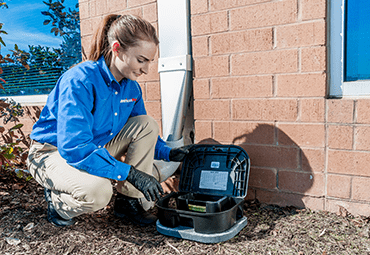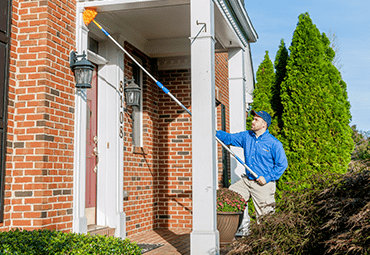 Our Preferred Care Plan is an affordable pest control solution for eliminating common insects that enter the home from the outside. You will receive an initial interior and exterior inspection and treatment for your target pest problems, along with those we uncover during our inspection. Exterior treatments continue once every quarter to control ants, mice and rats, spiders and 30+ home invading pests. Guaranteed service quality backed by our Pest Free Pledge.

Up to 4 Services Per Year
Year-Round Coverage
Exterior Perimeter Treatment
Interior Service Guarantee
Exterior Spider De-Webbing
Exterior Rodent Prevention
Pest Free Pledge Guarantee
Starting at $49*/month
*Some exclusions apply