American Pest Pledges a $10,000 Donation to Breast Care for Washington
10/01/2021
News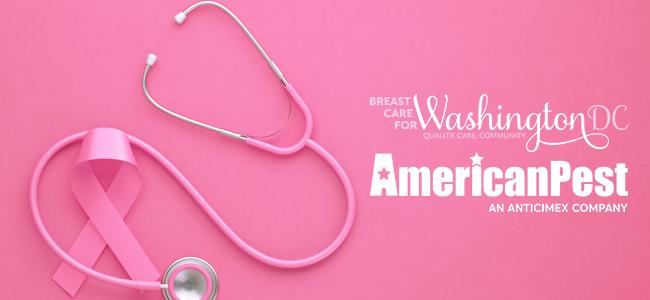 October is Breast Cancer Awareness Month, the perfect time to raise awareness about this disease. Did you know breast cancer is the second most commonly diagnosed cancer among American women? Read on to learn how you can join American Pest in the fight against breast cancer.
In honor of Breast Cancer Awareness Month, American Pest is excited to announce that we will be continuing our partnership with Breast Care for Washington, a local nonprofit that provides breast cancer screenings and care to women in D.C.—where the highest breast cancer mortality rate in the country exists. While the reasons for this alarming statistic vary, doctors and scientists agree that early detection is the best defense in the battle against breast cancer. Therefore, breast cancer screenings provided by Breast Care for Washington will be a prime factor in improving the mortality rate throughout the D.C. region
In the past, we've pledged to donate $1 for every service in October, however, this year we wanted to raise the bar. American Pest has pledged to donate $10,000 during the month of October, which will be the largest donation that American Pest has ever made!
American Pest's team of pest professionals will be wearing Pink Masks throughout Maryland, DC, and Virginia to show our support and start generating conversations with customers to raise awareness. In addition to their record-breaking donation, American Pest employees will have the opportunity to contribute their own donations through our employee recognition program, Bonusly where they can choose to donate anywhere from $1-10 at a time.
But wait, that's not all! For the first time ever, new American Pest customers will have the opportunity to be a part of the battle against breast cancer as we will be offering them the option to round up the cost of their initial service to the amount of their choice.
All donated funds collected from American Pest, their pest professionals, and their customers will go to Breast Care for Washington, a community-centered screening organization that assists medically underserved women by providing no-cost mammograms, healthcare education, clinical breast examinations, and patient navigation services. Breast Care for Washington also has the only 3D mammography facility providing direct services within a community health clinic setting.
Breast Care for Washington was founded in 2012 by Dr. Regina Hampton, a breast surgeon, and Beth Beck, M.A., CHES, former executive director of Capital Breast Care Center. The organization's mission is to reduce breast cancer mortality in the Washington, D.C. area by promoting access to breast cancer screening, diagnostics, and treatment to all women regardless of their ability to pay. For information about BCFW or to make a charitable donation, please visit breastcaredc.org.